RSA SecurID 900 Authenticator

The gold standard in two-factor authentication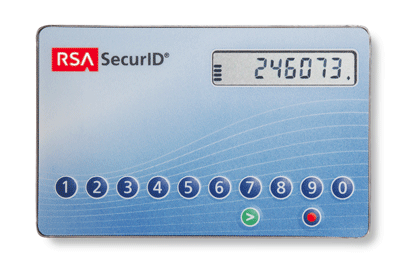 Sorry, this product is no longer available, please contact us for a replacement.
Overview:
When organizations have confidence their information is secure, they are empowered to use it to accelerate their business. Identity assurance creates confidence and extends user authentication from a single security measure to a continual trust model that is the basis of how an identity is used and what it can do. The RSA SecurID® authentication system is a key component of an organization's identity assurance strategy. Trusted identities managed by RSA bring confidence to everyday transactions and support new business models providing secure access for employees, customers and partners while striking the right balance between risk, cost and convenience.
Thousands of organizations worldwide rely upon the RSA SecurID authenticators to protect valuable network resources. Used in conjunction with RSA® Authentication Manager, an RSA SecurID authenticator requires users to identify themselves with two unique factors—something they know and something they have—before they are granted access. Millions of people use RSA SecurID authenticators to securely access VPNs, wireless access points, web applications and network operating systems. RSA offers a wide variety of authenticator options that meet your needs whether cost, convenience or security is your priority.
RSA SecurID authenticators help organizations protect private information and assure identities of people, devices and applications exchanging that information. They are designed to fit seamlessly into the existing business infrastructures of over 30,000+ organizations worldwide. With over 25 years of outstanding performance and innovation, the RSA SecurID solution remains an industry standard for organizations which want to protect key business data assets. RSA SecurID authenticators provide organizations with:
Strong network security,
Reliable authentication,
Convenient solutions for end-users and
A choice of form factors and options.
At a Glance
The world's most popular and secure enterprise authenticator solutions
Secures internal and remote network access
Offers easy-to-use, "zero footprint" options
Available in multiple form factors including hardware and software tokens as well as On-demand authenticators
Features:
Strong Network Security
Each RSA SecurID authenticator has a unique symmetric key that is combined with a proven algorithm to generate a new one-time password (OTP) every 60 seconds. Patented technology synchronizes each authenticator with the security server, ensuring a high level of security. The one-time password—something the user has—is coupled with a secret personal identification number (PIN)—something the user knows—to create a combination that is nearly impossible for a hacker to guess. This protection is priceless when the risk of exposing critical information resources is considered.
Reliable Authentication
For an enterprise depending on the broad distribution of tokens to protect access to information and applications, token reliability is a major concern. RSA offers industry- leading levels of reliability and RSA SecurID hardware tokens are designed to withstand the worst imaginable conditions. From temperature cycling to mechanical shocks to being immersed in water, RSA SecurID hardware tokens are subjected to rigorous tests to ensure that user organizations do not face hidden costs due to token failures. By selecting RSA SecurID tokens, organizations can reduce the overhead costs of distributing replacement tokens and drive down the overall cost of security while providing a consistent and easy-to-use authentication experience for end-users.
Convenient Solution For End-Users
Whether hardware, software or on-demand SMS authenticators, RSA SecurID tokens are as simple to use as entering a password, but much more secure. Each end-user is assigned an authenticator that generates a one-time-use code. When logging on, the user simply enters this number plus a PIN to be successfully authenticated. Software tokens and the On-demand token offer additional convenience by enabling devices end- users already use—laptops and desktops, phones, USB devices—to be used as authenticators.
A Wide Variety Of Form Factors And Options
One size does not fit all when it comes to choosing the right authenticator to balance your security, total cost of ownership and end-user security needs. With a broad range of easy-to-use form factors, there are RSA SecurID authenticators available to suit a wide variety of organization and application requirements. RSA offers hardware and software, as well as on-demand authenticators that provide strong authentication using familiar devices that users already have. RSA SecurID technology is also supported by a wide range of certified partner devices.
Offerings:
RSA SecurID Hardware Authenticators are available in a variety of convenient form factors that serve different functions.

This hardware device easily connects to any key ring. The user simply reads the changing display (typically every 60 seconds) and uses it as part of a dynamic and always-changing password.

This multi-function device combines the industry-proven features of the RSA SecurID 700 with a smart chip based on Sun Java technology, packaged in a convenient USB form factor. In addition to generating one-time passwords, it is capable of storing multiple X.509 digital certificates, which enable authentication, digital signature, and file-encryption applications. It can also store user credentials for seamless domain authentication.

This multi-function device combines the proven features of RSA SecurID hardware authenticators with a signing function to strongly protect business transactions. Once an end user has signed on to a financial site and has conducted a transaction (such as a funds transfer), the site generates a confirmation number (also known as a "challenge"). The end user enters that challenge number into the RSA SecurID 900 device and it generates a "response" value that displays on the device LCD. The end user then uses that response number as their unique digital signature to support the financial transaction. The RSA SecurID 900 authenticator is compatible with the RSA SecurID Authentication Engine (SAE), a lightweight and easy-to-implement authentication software solution.

RSA SecurID Select
RSA SecurID Select enables you to customize the world's leading two-factor authentication device with your organization's logo and other unique brand attributes. Follow a simple, three-step
Design and Template Process
to generate your co-branded tokens.
Compare:
| | | | | | | | |
| --- | --- | --- | --- | --- | --- | --- | --- |
|   | Style | Available on | Artwork customization available | Number of digits displayed | Display change time for one-time password (OTP) | Duration availability | Applications |
| RSA SecurID 200 Authenticator | Card style | RSA Authentication Manager and SecurID Authentication Engine (SAE) | Yes | 6 standard; can be customized to 4 or 8 | 60 seconds; can be customized to 30 seconds | 24, 36, and 48 months | OTP |
| RSA SecurID 520 Authenticator | Card style | RSA Authentication Manager and SecurID Authentication Engine (SAE) | Yes | 6 standard; can be customized to 4 or 8 | 60 seconds; can be customized to 30 seconds | 24, 36, and 48 months | Pin entry OTP |
| RSA SecurID 700 Authenticator | Key fob | RSA Authentication Manager and SecurID Authentication Engine (SAE) | Yes | 6 standard; can be customized to 4 | 60 seconds; can be customized to 30 seconds | 24, 36, 48, and 60 months | OTP |
| RSA SecurID 800 Hybrid Authenticator | Key fob | RSA Authentication Manager and SecurID Authentication Engine (SAE) | Yes | 6 standard; can be customized to 4 | 60 seconds; can be customized to 30 seconds | 24, 36, 48, and 60 months | OTP, email signing, HD/file encryption, etc. |
| RSA SecurID 900 Authenticator | Card style | RSA SecurID Authentication Engine (SAE) ONLY | Yes | 6 standard; can be customized to 4 | 60 seconds; can be customized to 30 seconds | 24, 36, and 48 months | OTP, Challenge Response |