RSA SecurID Hardware Authenticators

The gold standard in two-factor authentication
When organizations have confidence their information is secure, they are empowered to use it to accelerate their business. Identity assurance creates confidence and extends user authentication from a single security measure to a continual trust model that is the basis of how an identity is used and what it can do. The RSA SecurID® authentication system is a key component of an organization's identity assurance strategy. Trusted identities managed by RSA bring confidence to everyday transactions and support new business models providing secure access for employees, customers and partners while striking the right balance between risk, cost and convenience.
Thousands of organizations worldwide rely upon the RSA SecurID authenticators to protect valuable network resources. Used in conjunction with RSA® Authentication Manager, an RSA SecurID authenticator requires users to identify themselves with two unique factors—something they know and something they have—before they are granted access. Millions of people use RSA SecurID authenticators to securely access VPNs, wireless access points, web applications and network operating systems. RSA offers a wide variety of authenticator options that meet your needs whether cost, convenience or security is your priority.
RSA SecurID authenticators help organizations protect private information and assure identities of people, devices and applications exchanging that information. They are designed to fit seamlessly into the existing business infrastructures of over 30,000+ organizations worldwide. With over 25 years of outstanding performance and innovation, the RSA SecurID solution remains an industry standard for organizations which want to protect key business data assets. RSA SecurID authenticators provide organizations with:
Strong network security,
Reliable authentication,
Convenient solutions for end-users and
A choice of form factors and options.
At a Glance
The world's most popular and secure enterprise authenticator solutions
Secures internal and remote network access
Offers easy-to-use, "zero footprint" options
Available in multiple form factors including hardware and software tokens as well as On-demand authenticators
RSA Hardware Authenticators
Starting at $212.00 for a 5 Pack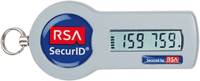 Small-sized key fob
Available in 2, 3, 4, and 5 Year Security Bundles
Starting at $255.00 for a 5 Pack

Small-sized key fob
Available in 2, 3, 4, and 5 Year Security Bundles
Built-in USB Connector and smart chip
Store Windows username/password credentials and digital certificates
Automatic token code entry